2020 Silk Roads ICH Networking Program
Webinar: Life, Environment, and ICH along the Silk Roads & Strategic Meeting on Silk Roads ICH Networking
Cooperation of twenty-one Silk Roads organizations with twenty-five experts from ten countries announced—2021 Silk Road Intangible Heritage Network Creation Recommendations to be Adopted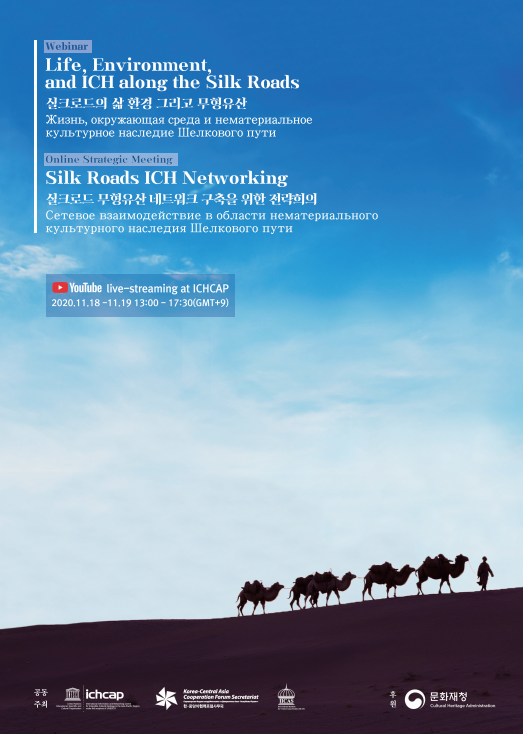 With the aim of 'establishing mechanisms to ensure the effective sharing of information related to ICH safeguarding;' 'build, strengthen, and maintain networks among concerned communities, groups, and individual bearers of ICH, as well as relevant non-governmental organizations and civil society associations; and organize public events as appropriate;' build, strengthen and maintain networks to exchange information and knowledge concerning the safeguarding of ICH, among relevant actors and institutions (Article 6.2. [a], [c], [d] of the Agreement to establish ICHCAP), ICHCAP intends to undertake activities to enhance access to and the availability of ICH information and strengthen information and networking capacity, targeting ICH stakeholders, within the framework of ICHCAP's projects.
As part of these efforts, ICHCAP has teamed up with Korea-Central Asia Cooperation Forum Secretariat and IICAS to develop a survey about ICH festivals along the Silk Roads. This program is the first phase of a longer-term commitment to extend the network to include other ICH forms in the future.
ICHCAP has supported ICH networking in Central Asia, the northern Silk Roads axis, for the past decade. ICHCAP and Uzbekistan signed a three-party MOU to activate the Silk Road intangible cultural heritage network in 2019, which was followed by a Central Asia Sub-regional network meeting in Almaty, Kazakhstan, 2019.
The 2020 webinar features Helena Norberg-Hodge, a world-renowned ecologist and author of Ancient Futures, as the first speaker, and she talks about "Human, Environment and the Silk Road." In addition, Dr. Seong-Yong Park of ICHCAP, an expert in cultural development and networking, will present "Silk Road Intangible Heritage Cooperation Mechanism" based on experience establishing various networks of the ICH field in the Asia-Pacific including Central Asia over the past decade. In addition, Alisher Ikramov of the Central Asian Studies Research Institute at IICAS and an authority on regional studies on the Silk Roads is scheduled to present "Viability and Sustainability of the Silk Road Intangible Heritage Festivals." As the fourth speaker, installation artist Dongjo Yoo, who has appealed for the importance of harmony between humans and the environment throughout his life, shall speak about his installation art activities and present the Water-Presentation Installation Project that longs for the coexistence of humans and nature on the Silk Roads along with future collaborative works among artists in the Silk Road region.