2020 World Forum for Intangible Cultural Heritage
Human, Nature, and Intangible Cultural Heritage
2020 World Forum for Intangible Cultural Heritage, Online Forum due to the COVID-19 Pandemic
2020. 09. 23 (Wed) ~ 25 (Fri).
14:15 – 14:30
Keynote Presentation: Re-defining the Relationship Between Humanity and Nature By Ernesto Ottone Ramirez Assistant Director-General for Culture of UNESCO
Stressing the importance of intangible cultural heritage safeguarding and promotion as a response to natural disasters caused by climate change. Examining the current situation on intangible cultural heritage and safeguarding amidst the chaos of the pandemic, Presenting the UNESCO intangible cultural heritage policy and vision to redefine the relationship between humanity and nature.
14:45 – 15:00
Presentation 2: Sustainable Agriculture in Nature, Micronesian Agroforestry
By Francis Reg Head of the Yap States Historic Preservation Office (HPO)
Agroforestry is a traditional method of agriculture with a 1000-year long history, practiced mostly in Southeast Asia and Africa. Agroforestry acts as a buffer against flooding and stabilizes the soil, making it an effective response to climate change. Presenting the example of Micronesian sustainable agroforestry, which co-exists in harmony with nature.
14:30 – 14:45
Presentation 1: Intangible Cultural Heritages in the Anthropocene By Buhm Soon Park Director, Center for Anthropocene Studies at KAIST
The Anthropocene is a geological term referring to the era characterized by human impact on geological activity and geological history. Climate change, environment, and disease are going beyond scientific discourse to impact our daily lives. Understanding the message being sent from the planet to humanity, and discussing the future and potential of intangible cultural heritage.
15:15 – 15:30
Presentation 4: Pacific Islands of the Anthropocene
By Elizabeth DeLoughrey Professor of University of California, Los Angeles
How research on the indigenous understanding of nature and methods of co-existence in the Pacific regions crossed over into the humanities—examining intangible cultural heritage in the human-nature relationship through the field of ecological humanities.
15:00 – 15:15
Presentation 3: Intangible Cultural Heritage as Protection, Avalanche Risk Management
By Michael Bruendl Head Research Group Avalanche Dynamics and Risk Management, WSL Institute for Snow and Avalanche Research SLF
Avalanche risk management of the Alps, inscribed to UNESCO's Representative List of ICH in 2018, is a major topic of interest for Alpine communities which plays a role in forming their identity. Examining the method of disaster management in the Alps, which prepares against natural risks based on experience and knowledge accumulated over centuries.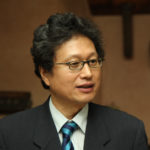 14:30 – 16:00
Session 1: Re-defining the Relationship Between Humanity and Nature
By Jingi Cheon Senior Curator of National Museum of Korea. Former Director of National Folk Museum of Korea [Moderator of the Day 1]